Power without batteries.
Crystal Set Radio diagram, note. Sometime known as a cats whisker radio

Click on the image to find out more.
Make a Foxhole Radio - Weekend Project PDFcast (PDF file link) More about PDF, Portable Document Files
M2E Power's charger, powered by human motion M2E Power expects to release a charger that can harvest enough energy from walking to replenish mobile phones or other small gadgets, like GPS devices. The company said that six hours of cumulative motion can add 30 to 60 minutes of talk time to a mobile phone.
Radio wave powered mobile phone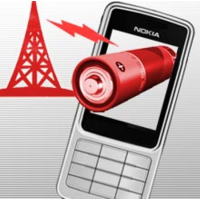 Make solar energy redundant by making cellphones that can be powered by radio waves
Power From The Air. Ambient Electromagnetic Energy Harnessed for Small Electronic Devices. Researchers have discovered a way to capture and harness energy transmitted by such sources as radio and television transmitters, cell phone networks and satellite communications systems. By scavenging this ambient energy from the air around us, the technique could provide a new way to power networks of wireless sensors, microprocessors and communications chips. Professor Manos Tentzeris displays an inkjet-printed rectifying antenna used to convert microwave energy to DC power. It was printed on flexible material. "There is a large amount of electromagnetic energy all around us, but nobody has been able to tap into it," said Manos Tentzeris, a professor in the Georgia Institute of Technology, The School of Electrical and Computer Engineering who is leading the research. "We are using an ultra-wideband antenna that lets us exploit a variety of signals in different frequency ranges, giving us greatly increased power-gathering capability."
Realize the remote control without batteries for consumer electronics Battery-less remote control
PiezoelectricityTM" Implementing a remote power control technology and a unique battery-less.

Sound power generation and NEC Electronics Corporation (President: ei Hayamizu, Location: Fujisawa City, Kanagawa Prefecture, following the sound power generation) today announced that power generation in vibration that occurs when you press the button on the remote control with your fingers, "Vibration power generation, "The combination of power control techniques and proprietary technology, a prototype remote control without batteries for consumer electronics, November 18 this year will be held at Pacifico Yokohama from" Embedded Technology 2009 "will be on display at.

Conventional power generation using clean energy to vibrational energy was abandoned without a thought "Piezoelectricity" semiconductor businesses that focus as one of the digital consumer space power generation and NEC Electronics has developed a sound , "Piezoelectricity" joint research and development to improve the convenience of home appliances in 2006 with 12 working Orimashita month. This is a prototype battery-less remote control, power generation has developed sound "Piezoelectricity" devices, and microcontrollers from NEC Electronics for RF remote control, power control technology was achieved by a combination of electronic circuitry to drive a small remote control and power is. Specifically, using electricity generated by the vibration when you press the button, without batteries, power the TV ON / OFF, volume control, channel / switch operations has been achieved input. Please refer to Attachment
Pavegen Systems has created technology to harvest energy from the footfall of passers-by and use it to power nearby electrical devices.

The flexible paving slabs, invented by Laurence Kembal-Cook, absorb the energy created by pedestrians and turn it into electricity that can be used to power lights, computers, automatic doors, tube station ticket machines, shop frontages and train and bus timetables.

The slabs are going into six-month trials in locations throughout the UK in 2010, including local authorities, schools and airports.
These are not Overunity, (The Production of Free Energy, Perpetual Motion, higher energy Output than what is put into the system) see More about Overtunity. Energy has to come from somewhere.
Electronics, Electronic components and Electronics Circuits.
What about Bandwidth you may ask!
Environmental solutions videos. Environmental solutions, Solutions to CO2 emission.
Nanobots, NanoRobots, Nanotechnolgy. Dangers of Nanotechnology. Is Nanotechnology dangerous?
WAP, WML, Wireless Markup Language, Wireless links,Wi-Fi, BlueTooth, radio
ADSL2+ (Asymmetric Digital Subscriber Line) Could produce increased bandwidth speed of 24 Mb/s. This could be high enough for interactive, (IPTV),Internet Protocol TeleVision. ADSL2+ will be able to correct interference and therefore cleaner quality data delivery to the end user.
Internet 2 (Internet II) A ten speed increase in the Internet.
IPv6 The New Internet protocol
Hardware Guides, BIOS, Drivers, DLL files and Peripherals links
Web Master Tools and Utilities
Hosting Question you should ask
Web Masters. Click Here Now to start making money. A Great opportunity to make some money. Receive 50% by offering your users Ton's of Keywords on A Great Portal websites.

Our Affiliate Program Pays you 50% on Level 1 of Every Sale of our Text Link both searchable and static Text Link!
Assume that Cookies are stored when accessing any web site or links to to the web sites from these web sites.
A Computer Portal. Freeware, Shareware. Download software. Computer languages and Programming code. Including PERL Scripts and Java Scripts. Webmaster Tools. Internet Marketing, Website promotion. Hardware Help from BIOS to Windows and UNIX.
® © ™ are owned by respective authors and websites. There may be a charge for some software. Google™ is a trademark of Google Inc, These pages are not endorsed by Google or any other Company. Always perform an Anti-Virus Check on any Software